Ah, weddings! Where love blooms and vows are made under an archway of flowers. Speaking of flowers, today we'll be delving into the quest for the perfect florist to adorn your big day.
As a seasoned florist in Mount Pleasant, SC , I can tell you that choosing the right one for your wedding is a journey filled with roses, ranunculuses, and yes, a few thorns. The flowers at your wedding will create the atmosphere, add color and fragrance, and ultimately be in most of your photos, so choosing the right florist is crucial.
This isn't just about a business transaction; it's about forming a partnership with a botanical artist who can bring your floral dreams to life. As you embark on this journey, you're bound to encounter overwhelming choices, and possibly, moments of indecision. But fear not, my petal-loving friends! This guide will light the way to your perfect florist match.
Defining Your Floral Style
Let's be honest, folks. We're not all born with a 'green thumb' or a natural flair for floral design. But, no worries! You don't need to distinguish a daisy from a dahlia to understand your floral style. It's all about your personal vibe and how it fits into your wedding vision.
Now, you might be thinking, "But I don't even know where to start!" Start by asking yourself, do you prefer a more traditional and elegant look, or perhaps a wild, boho vibe? Maybe you're somewhere in between? Only you can answer that.
Once you have a rough idea, delve deeper. Look at colors, flower types, arrangement styles, and even the emotions you want your flowers to evoke. A florist will help refine your style, but having a clear idea will guide you to the right florist for you.
Remember, this is your day. Your flowers should reflect you and your partner's taste. So go ahead, be a little picky!
Setting a Budget
Now, onto the thorny subject of money. Setting a budget is a must when planning your wedding flowers. After all, while love may be infinite, bank accounts typically are not.
So, how much should you budget for flowers? A good rule of thumb is to allocate about 10% of your total wedding budget to flowers. However, this can fluctuate depending on the scale and style of your wedding.
Consider all floral needs for your big day. This includes everything from your bouquet to table centerpieces, and don't forget the boutonnieres! These expenses add up, and it's vital to account for each one.
While discussing budget may seem like a buzzkill amidst all the excitement, remember that being financially aware can save you from unnecessary stress later on. It also helps your potential florists understand what they're working with, ensuring that you receive a proposal that fits your needs and wallet.
Researching Potential Florists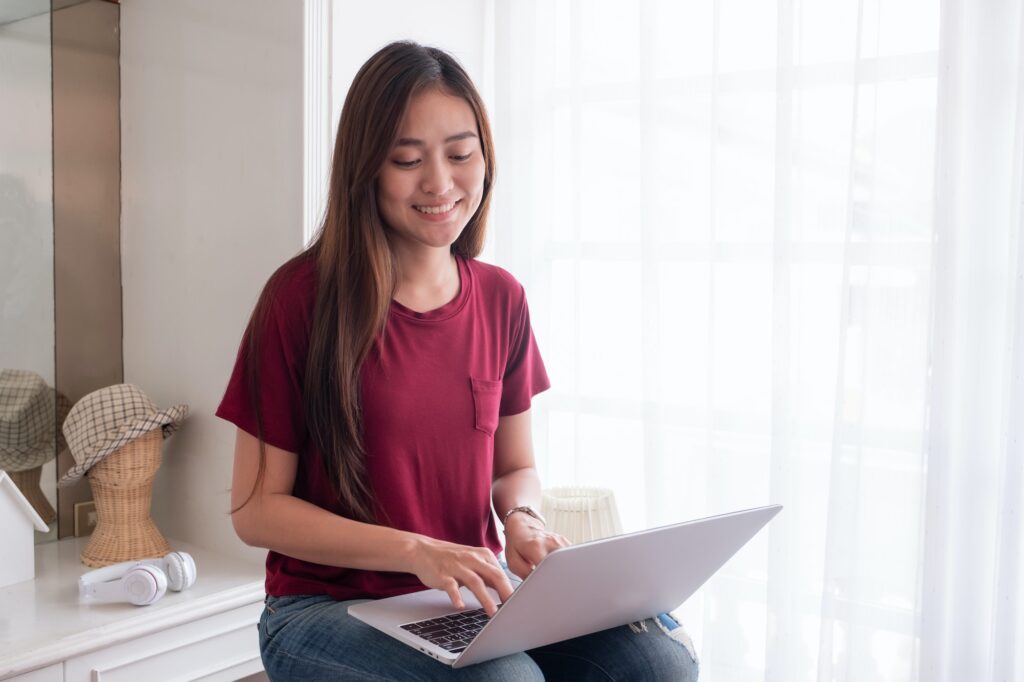 Alright, lovebirds! It's time to put on your detective hats and start researching potential florists. With your style and budget in mind, begin the quest for your flower whisperer.
Start your search online. Look at florists' websites, social media profiles, and portfolios. Take note of the quality and consistency of their work. After all, if a florist's style makes you feel like you're walking through an enchanted forest when you're aiming for a classic rose garden, they might not be the one for you.
Don't forget about reviews and testimonials. These nuggets of information can reveal much about a florist's professionalism, reliability, and the quality of their flowers.
Word-of-mouth recommendations are also golden. Ask your recently married friends, family, or even your wedding planner for referrals.
At the end of the day, remember, you're not just looking for a florist. You're looking for your florist – someone who can transform your wedding day vision into blooming reality.
Meeting With Potential Florists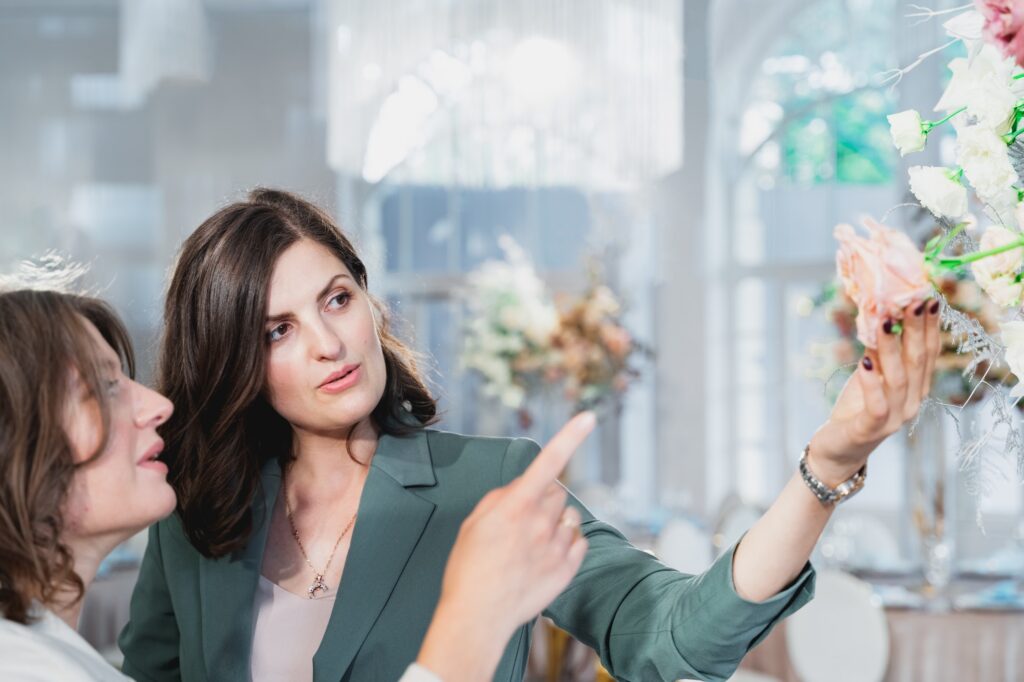 Now, we're moving onto the fun part! It's time to meet with potential florists. Imagine this as a first date, but instead of sharing a dessert, you're sharing your wedding vision.
Before your meeting, prepare a list of questions to ask. This could include queries about their experience, availability on your wedding date, and ideas for your budget and style. Don't forget to inquire about delivery, setup, and breakdown costs as these can sometimes sneak up on you.
During the meeting, pay attention to how well they listen and communicate. Are they getting excited about your ideas? Do they understand your vision? These interactions can provide valuable insights into how well you'll work together.
Before wrapping up, discuss the next steps. Usually, the florist will prepare a proposal based on your discussion.
Lastly, trust your gut feeling. You're about to entrust this person with a significant part of your wedding. You should feel comfortable and excited about your choice.
Reviewing Floral Proposals
The excitement continues as you receive your floral proposals. Just like unwrapping a gift, opening these proposals is thrilling, but you need to check each detail carefully.
Each proposal should clearly outline the costs, including delivery, setup, and breakdown. It should provide a breakdown of what flowers will be used, where, and in what quantity.
Compare the proposals against your budget and style preferences. Look for any unexpected costs or missing elements. As they say, the devil is in the details!
Once you've reviewed each proposal, it's time for some reflection. Consider the florist's design skills, communication style, and whether their proposal aligns with your wedding vision.
Remember, a higher cost doesn't always mean better quality. Consider all aspects of the proposal before making your decision. This way, you ensure that you're getting the best value for your budget.
Making the Final Decision
Drum roll, please! It's decision time. You've defined your style, set your budget, done your research, met with potential florists, and reviewed proposals. Now, the power to choose rests in your hands.
When making the final decision, consider all the factors we've discussed. Style alignment, budget fit, and a positive rapport are crucial. It's like making a perfect bouquet – every element matters.
If you're torn between florists, reflect on their interactions with you. Who seemed most enthusiastic about your wedding vision? Who showed the most creativity in their proposal? And who made you feel most at ease?
Choosing a florist for your wedding is a big decision, but remember – you've done the groundwork. Trust yourself, and choose the florist who feels right. After all, it's your day. Make sure your choice will help make it bloom into the spectacular event you're dreaming of.
Conclusion
So, there you have it – your roadmap to finding the perfect florist for your wedding. As with all good adventures, there may be a few bumps along the way, but with these guidelines, you're equipped for the journey.
Remember, it's all about balance. Balancing your personal style with your budget, your expectations with reality, and your desire for a fantastic wedding with the practicalities of planning.
Your florist plays a crucial role in this balancing act, turning your dream wedding into a blossoming reality. So, be thorough in your research, be open in your discussions, and be confident in your final decision.
The process might seem overwhelming, but trust me, once you see your wedding venue bloom with the beauty of your chosen flowers, you'll know that every step was worth it.